What better way to start a Monday than by joining the party with This Momma's Meandering Mondays 42! Spring is in the air and the Easter Bunny is on his way!! So let's get the party started and come on in and join the fun! We had an absolutely awesome week last week! Share the fun and make some new friends, find a new yummy treat to make, or find a wonderful new craft idea to make. This is a great way to grow in your friendships! But before we start this party...Grab a badge!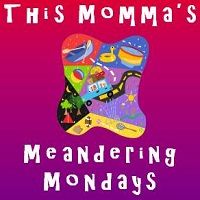 Say howdy to my linky party partners in fun... The wonderful
Jessica from The Wondering Brain
and
Natasha from Epic Mommy Adventures
.
Grab a badge and join the party!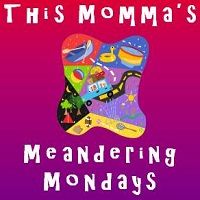 Now it is time to introduce our favorite This Momma's Meanderer's from last week, and boy oh boy it was a difficult choice! Don't forget to grab your "I Was Featured" badge of honor! Congratulations to you all!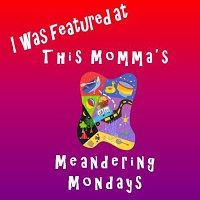 Jessica's favorite post came from Love Lines From God with the post "
Cures for Restless Nights
"! Saying, "Awesome post! What caught my attention was the title of the post. I am currently suffering from insomnia due to my Grave's Disease so I understand what Martin is going through. The advice was also spot on too - having positive relationships can ease one's mind for a restful night's sleep :-). Thanks for sharing!"
Natasha's favorite post came from The Jenny Evolution with the post "
What I Wish I Knew As A Parent
"! Saying, "What a great post! It's so true - no one really tells you how crazy it is when you first have a baby. Or maybe we just don't hear it because we're still in the glow of pregnancy. But I wish I had known! Jenny did a great job sharing what happens when you're a new parent. I hope parents to be will read and take in, because it's truly how it happens!"
My favorite post came from Domain of the Mad Mommy with the post "
The Weight of Honesty
"! This is an amazing post and I can so relate on all counts. Most people would look at me tell me that it is all in my head...and maybe it is, but it is how I feel! Unfortunately it is what I saw, even when I was at my smallest, which I am not now and it is still how I feel and what I see. I want to make those changes and I know that I can, but I still struggle to make those changes permanent.
Congratulations to all of you amazing and wonderful linkers! Don't forget to grab and display our "Featured" badge!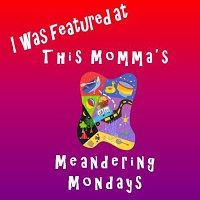 Thank you to all of you who joined us last week!
I am looking for May co-hosts for This Momma's Meandering Mondays? If interested, please drop me a line at ssgannett@gmail.com. I would love to have you along for the ride! You can also check out my sponsor page for more info. Now let's get this party started!
Remember everyone enjoys a little comment love! Feel free to "meander" by some fellow bloggers and find a new recipe to make for the family, a helpful blogging tip, a funny story to read, and best of all a new friend to make! There are really no rules to follow, only some suggestions to keep in mind...because we are all to enjoy the friendships that come along by doing these few simple and wonderful things... 1. Link up your favorite post...a story, a recipe, a photo, or a helpful tip...As many as you want, that's right as many as you want!!!! 2. Please follow our Host's 3. Find some new friends to follow, friendships are what it's all about! 4. Be sure to leave some comment love, to get it in return. 5. Grab our badge and display on your blog, sharing the love is what it's all about. Meander through the links and make some new friends, find some amazing and useful tips, and maybe even a new treat to try!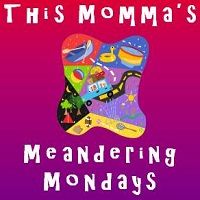 Welcoming you to link up all of your favorite sites for This Momma's Meandering Mondays 42, for more opportunity to Meander around and share the love! So happy Linking everyone! Blog Link Up: Facebook Link Up: Twitter Link Up: