Welcome! It is wonderful to have you meandering by for This Momma's Meandering Mondays 36! Wow! Is it really March already...it seems like just yesterday we were all ringing in the new year! It is time to join in on the fun and make some new friends, find a new yummy treat to make, or find a wonderful new craft idea to make. This is a great way to grow in your friendships! But before we start this party...Grab a badge!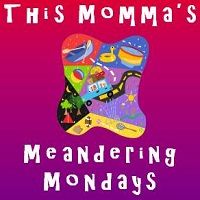 Say howdy to my linky party partners in fun... The wonderful
Jessica from The Wondering Brain
and
Natasha from Epic Mommy Adventures
.
Join me in welcoming our amazing February co-host Grab a badge and join the party!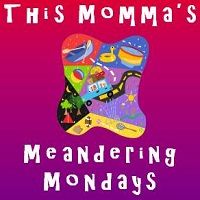 Now it is time to introduce our favorite This Momma's Meanderer's from last week, and boy oh boy it was a difficult choice! Don't forget to grab your "I Was Featured" badge of honor! Congratulations to you all!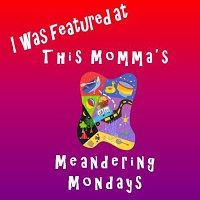 Jessica's favorite post came from Simple Nature Decor Blog with the post "
Artful Garden
"! Saying, "I love gardening when I have the time and space :). Her ideas are awesome and a reat way to provoke thought on starting another "patio garden" again!"
Natasha's favorite post came from Barbie Bieber and Beyond with the post "
10 Things Mums Should Teach Their Daughters
"! Saying, "This is an awesome post - and should be read by every mom out there. It's so true that our girls must learn from their mothers. As a a girl and now a mother, I can truly appreciate every tip in this post."
My favorite post came from Domain of the Mad Mommy with the post "
A Blogger By Any Other Name
"! Boy, I could so relate to this post on so many points. Sometimes with the diversities of our lives, it is hard to just pick one "niche", especially when many of us wear so many hats each and every day and those experiences are our bonds!
Congratulations to all of you amazing and wonderful linkers! Don't forget to grab and display our "Featured" badge!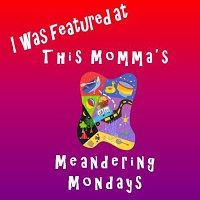 Thank you to all of you who joined us last week!
I am looking for April co-hosts for This Momma's Meandering Mondays? If interested, please drop me a line at ssgannett@gmail.com. I would love to have you along for the ride! You can also check out my sponsor page for more info. Now let's get this party started!
Remember everyone enjoys a little comment love! Feel free to "meander" by some fellow bloggers and find a new recipe to make for the family, a helpful blogging tip, a funny story to read, and best of all a new friend to make! There are really no rules to follow, only some suggestions to keep in mind...because we are all to enjoy the friendships that come along by doing these few simple and wonderful things... 1. Link up your favorite post...a story, a recipe, a photo, or a helpful tip...As many as you want, that's right as many as you want!!!! 2. Please follow our Host's 3. Find some new friends to follow, friendships are what it's all about! 4. Be sure to leave some comment love, to get it in return. 5. Grab our badge and display on your blog, sharing the love is what it's all about. Meander through the links and make some new friends, find some amazing and useful tips, and maybe even a new treat to try!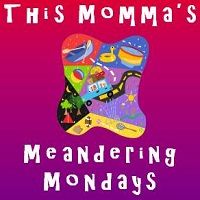 Welcoming you to link up all of your favorite sites for This Momma's Meandering Mondays 36, for more opportunity to Meander around and share the love! So happy Linking everyone! Blog Link Up: Facebook Link Up: Twitter Link Up: