A few weeks ago I announced that I was diagnosed with Grave's Disease. Since then, I've been searching over the web and spoke with others who share the same disease as me. Well, one night due to some issues with insomnia I decided to watch Netflix and came across a documentary called Fat, Sick, and Nearly Dead. What a life changer! The story had several similarities with what I was going through. Joe Cross, the star of the show is 41 years old (like me!) and has been diagnosed with an auto immune disease (also like me!). His goal: Get off all the meds (10 like me) and take control of his health. The way he did it was through juicing! He decided to drink his fruit and vegetables for 60 days. Guess what? It worked!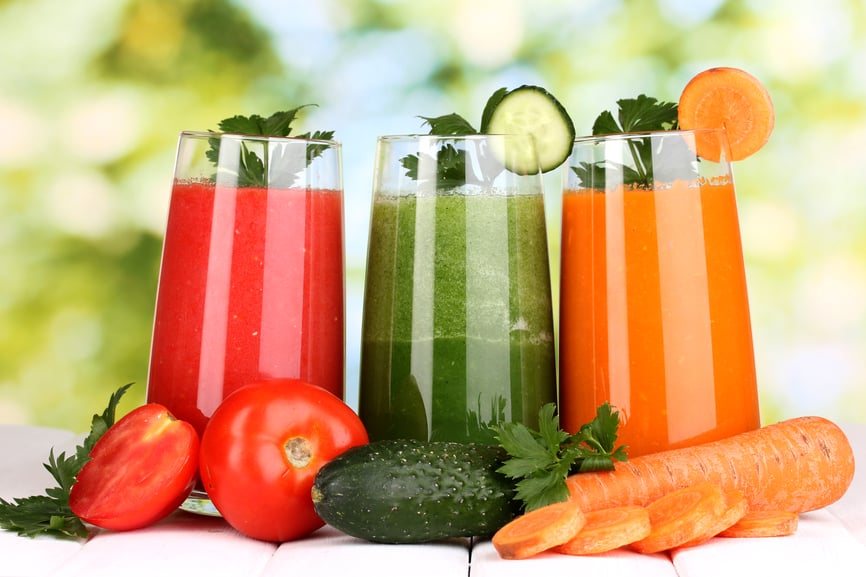 Personally, 60 days might be too much for me to drink nothing but juice. However, just adding fresh made juice to my diet has made me feel so much better! We all know that the recommended daily requirement for eating is 6 servings of grains, 5 servings of vegetables, and 5 servings of fruit. Sounds kinda impossible, right? Especially the thought of feeling bloated comes to mind for me too!
This is where juicing comes in. You can get your 4-5 servings of fruits and veggies by making it into juice. Plus... it's healthy too! What I've been doing is drinking 2 cups of juice each day to get my daily allowances in. So much so, that I am now craving veggies rather than the typical red meats! With that said, along with the 2 cups of juice, I've been making healthy choices when it comes to eating. Things like salad and even vegetable curry are my food of choice. Don't worry though! I have not given up on meat, just eating it minimally now. So here's some of my favorite juices I wanted to share with you:
The Green Machine
Orange Juice
Red Juice
To start, see what you have in your fridge. Take out your juicer and start throwing your fruits and veggies in there and enjoy a fresh cup of juice!
There are several websites out there that also have juice recipes for you to try too.
However, the main thing is to give it a try first. I thought I was going to hate it but now I'm addicted! If you have other juice recipes you'd like to share, please let me know! I'd love to try it! Happy Juicing and Happy Health!