Hello My lovely Brainiacs!
Since hosting My Favorite Posts SHOW OFF Weekend Blog Party, I've been receiving inquiries on how to start one. Let me tell you, it's not too hard at all! Before I begin, I am not an expert in blog parties. However, I will share with everyone what I've been doing to make my blog party run every week. Ready? Let's go!
What's a blog party? A blog party is a networking event that a blogger hosts on his/her site to gain readership and followers for all who participates in it. A blog party has other names like linky party, blog hop, or blog carnival.
One of the first things to do is find a theme for the blog party. It could coincide with the day of the week or something the blogger wants to promote. Here are a few themes for you to check out:
In order for the blog party to get the word out, a blogger will need co-hosts to help. I recommend having at least five co-hosts to help spread the word out. The more co-hosts you have, the more bloggers will be able to link up. Remember, the objective is to netowrk and gain more readers. Therefore, with five or more co-hosts, the better your reach to get the blog party out in the blogosphere.
There's always the question on whether or not to charge a co-host fee. When starting a blog party, you may want to start off by not charging a fee. When starting out, you want to get as many co-hosts as you can to help with getting the word out. Once the party gains momentum, then you may want to start charging a fee. Why charge? Think of it as ad space and marketing. When hosting a blog party, you are doing a lot of promoting of the party to include the co-hosts who are helping you. This will also help to monetize your blog as well as helping with the cost of keeping the blog up.
When hosting a blog party, you will need a link tool for other bloggers to link up. I am currently using linky tools as my link up tool. There are others that you can use too like inlinkz and Simply Linked.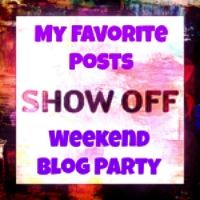 Now it's time to create the blog party post! All you will need to do is type it up like a regular post, convert it to html. Copy the html page onto an email then send it off to your co-hosts. Instruct your co-hosts to copy and paste it onto their blog as a new post, using html. Voila! The party is now up and ready for others to link up!
As you may have noticed, this is part one. Part two will cover how to market the blog party. Stay tuned!
In the meantime, join my co-host, Cathy from A Peek Into My Paradise, as she celebrates her 1 year blogiversary with a $500 giveaway!