Hey y'all! Happy Friday and welcome back to My Favorite Posts SHOW OFF Weekend Blog Party! We've got lots of awesome stuff that we're celebrating with you this weekend! First off, say hi to my August co-hosts:
Ready to see who our favorites are from last week?
Michelle and Michelle enjoyed Vikki's post from Laugh Lines:
"
Laugh Lines is one of my new favorite blogs…I could not stop laughing reading this!"
"
I can so relate to Vikki's tales of everyday life and the hilarious situations she encounters. I'm always rolling on the floor with every post because it's as if she's writing about me!"
"
I loved it because it inspired me to really make some big changes in my pantry. She broke it down into simple steps that didn't overwhelm me and her pictures helped me see how great it looks when you put in the effort. The pictures also gave me ideas on how to group many items in an organized way. Great job!"
Lilies are one of my favorite flowers. You can see why from the many pictures in Ms. Toody Goo Shoes post.
Congratulations to this week's featured bloggers! Take our badge and SHOW OFF to your readers that you were featured with us: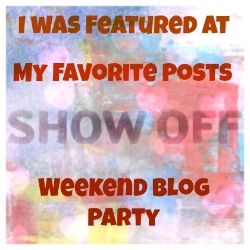 Our group giveaway is going strong! Enter today to win some fabulous prizes like a gift card to both Ross Dress for Less and Target. Hurry though! Entries end on August 15th:
a Rafflecopter giveaway
Earlier this week, I did a post on doing a weekly feature for my top fan on Facebook. Each week I will choose a fan from the Top Fan app on Facebook and recognize them at the SHOW OFF blog party as well as write a post on them. Without further ado, our Top Fan of the week is:
Stop by Allison's blog and congratulate her for being a Top Fan of The Wondering Brain! Look out for my post on her this weekend! To keep the momentum going, we're adding an additional link up for everyone to SHOW OFF their Facebook pages. we want you to gain more Facebook fans! Don't be shy, link up those pages below...
Ready to party? We are! Before we begin, here's some general guidelines:
Link up your favorite posts. It doesn't matter which one, just make sure it's family friendly!

Follow your host (that's me! The Wondering Brain)

Leave a comment if you'd like them to follow you too

Visit at least 5 other bloggers

Show them your blogger love by leaving a comment if you'd like them to follow
Remember, it's not a party unless you mingle, so mingle around and make some friends!
Take our beautiful badge and proudly display it on your side bar to encourage others to party with us!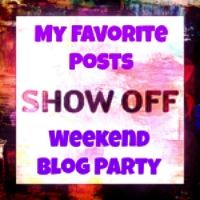 I'm also looking for 6 co-hostees to help me spread the party around in September and October. If you're interested, email me at thewonderingbrain at gmail dot com.
For your Facebook Pages: