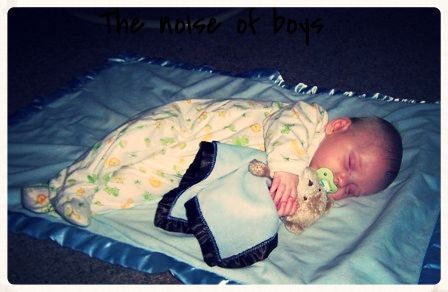 Growing up, I never had a "blankie", a "lovie" or a" teddy". Now, I certainly had lots of dolls and was part of the Cabbage Patch Kid craze of the 80's! But I never had a bond or a sense of security from any one particular item. Both of my boys, have what we call a "teddy" a small blanket with attached bear/rattle. These are primarily used at bed-time for cuddling and as a "wind-down" time symbol. This week, the
unthinkable
happened. Hayden's teddy disappeared.
I must tell you, I went in to a panic. His teddy is over 3 years old. I am sure with some searching I could find another, but certainly not locally and not by nap time! Even washing teddy has proven difficult at times. (Note: never show a toddler you are putting his beloved bear in the washing machine, trust me, DON'T DO IT. I typically have to sneak teddy into the wash). And forget about a different teddy, that would be impossible. At one point, I mentioned maybe he could borrow Henry's teddy for naptime. No way, was that happening. (Henry at 13 months old is FAR less attached to his teddy. His pacifier is a totally different story, but Henry alternates between two different blankies and has not really chosen "the one").
I proceeded to search the house and its contents, THOROUGHLY. Laundry baskets, mattresses, pillowcases, trash cans (yuck). And then nap-time arrived. Now at 3 years old, Hayden might be able to go without a nap. But I must explain that Hayden gets up nightly, and falls asleep on the sofa outside our bedroom. Since he is a poor night sleeper, he often needs that mid-day rest.
Okay let's do this….
I explained to my 3 year old I would keep looking for his lost teddy, but he needed to take a nap without him. To my absolute surprise, he agreed. And he did. Phew. Once he woke, he joined me in the search for his bear. Soon dad's work day was over and he joined us, too. I was confident; since we made it through naptime, he could probably fall initially asleep. However, I feared the real potential crisis would occur in the middle of the night. Some nights, Hayden is very distraught with vivid dreams. If he doesn't bring teddy to the sofa, he will call out for him.
Then, a quickly as he disappeared, teddy was found. On the floor, in my room, hidden by my bedskirt (my guess is Henry may have placed him there
J
). I cannot tell you how many times this room and general area was searched. Bottom line: All is now well in the world of boy and his bear.
However, I feel like mom has learned a bit from this. Don't you love these little teachable moments that life throws at you? Embrace them. I am still processing these particular lessons, but I feel like in this case they were plentiful. Number one, Hayden was far more resilient in this situation, than I gave him credit for. Mom can't always save the day- what if teddy didn't reappear? Well, I don't have to deal with that today, but I think Hayden might have surprised me. Lesson learned.