Meander on through for week five of "This Momma's Meandering Mondays"! This is the final week to hang out with my two amazing co-host's Jessica from The Wondering Brain and Amanda from Modern Hippie Momma! This last five weeks, with these two amazing ladies, have been absolutely amazing! I truly want to thank them for the amazing friendship that they offered and also to all of you that have joined us each week with your support and to any of you who happen to join us in the future! I find you all truly awesome!
Now let's get this party started, meander around and make some new friends!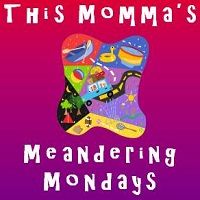 Feel free to "meander" by some fellow bloggers and find a new recipe to make for the family, a helpful blogging tip, a funny story to read, and best of all a new friend to make! There are really only a few rules that I would ask you to follow, pretty simple ones really... 1. Link up your favorite story, recipe, photo, or helpful tip; please keep it family friendly. 2. Please follow our Host and Co-host's 3. Please find some new friends to follow, remember the more you follow the more followers you will have. 4. Be sure to leave some comment love, to get it in return. 5. Grab our badge and display on your blog, sharing the love is what it's all about. Then meander through the links and make some new friends, find some amazing and useful tips, and maybe even a new treat to try!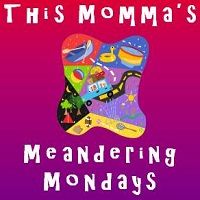 Now allow me to introduce my amazing co-host's for the month of July...drum roll...
Welcome to Jessica at The Wondering Brain Jessica is a full-time mommy to two boys, wife, employee, and Doctorate student. The Wondering Brain was started in January of 2013 as a cure to writer's block; writing about the insane craziness that comes with day to day life amidst the chaos of family life. Each weekend Jessica host's "Your Favorite Post Show Off Weekend Blog Party" over at The Wondering Brain, which starts every Friday evening at 5:00 PM.
Welcome to Amanda at Modern Hippie Momma Amanda is a SAHM to three children, wife, and all around "Hippie" at heart. She chronicles her daily life with her children, while sharing her eco-friendly views, and lovely "Hippie" thoughts. Amanda host's the "Showin Some Love Hump Day Blog Hop at Modern Hippie Momma, which goes live each and every Tuesday evening.
Please stop by and show these two amazing ladies some love!
Are you interested in co-hosting This Momma's Meandering Mondays? If so, please drop me a line at ssgannett@gmail.com. I would love to have you along for the ride!
Check out this awesome group giveaway! A group giveaway hosted by: Amanda at Modern Hippie Momma, Jodi at The Noise of Boys, Melissa at Home on Deranged, Molly at Faithful & Frugal Fashionista, and Myself at This Momma's Ramblings. a Rafflecopter giveaway So come on in, grab the badge, and join the party, enter this awesome giveaway, and find some amazing new friends! I promise you won't be disappointed!