Happy Friday Brainiacs! Welcome to another fun-filled edition of My Favorite Posts SHOW OFF Weekend Blog Party! We've now been partying with you for 12 weeks! Woo-Hoo!! My June ladies have done an excellent job in making the party lively for all of us! It's their last week and I want to give each of them the badge of awesomeness!
Google Imagas




We had a lot of great blog posts last week and it was soo hard to choose which one's to feature! After playing inni mini minni moe, and drawing straws, here is our featured posts:



4th of July is almost here! Find a bunch of great decorating ideas from Cropped Stories.
Read about a heartfelt story of finally meeting family titled Full Circle by Terri from Pushing on a Rope
If you are a working mom like me, you can definitely relate to this post at Super Working Mum
Ever wondered how that hot guy in high school ever turned out? read more about here with Middleage Monologues
Ever wondered who you would want to have lunch with if you had a choice? Kristi from Finding Ninee did!
Welcome to life in the country and all the beauty surrounding it! These pictures are beautiful at The Closet Intellectual!
There you have it! Checked them out and give our featured bloggers a high five! Don't forget to display your badge of honor to show off that you were featured at My Favorite Posts SHOW OFF Weekend Blog Party: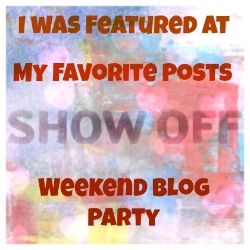 Who loves free stuff??? Free is always good! My co-hosts and I are doing a group giveaway. The prizes at stake are:
$20 Starbucks Gift Card

50% off purchase at Delightfully Hippie

Co-Host My Favorite Posts SHOW OFF Weekend Blog Party for 2 Months

Free Ad Space with The Wondering Brain, Modern Hippie Momma, This Momma's Ramblings, and Epic Mommy Adventures
a Rafflecopter giveaway
SHEBUSA has allowed me to host a giveaway on their behalf. Enter to win a beautiful ostrich bracelet! At the same time, get a 15% discount on your purchase using the promocode: THEWON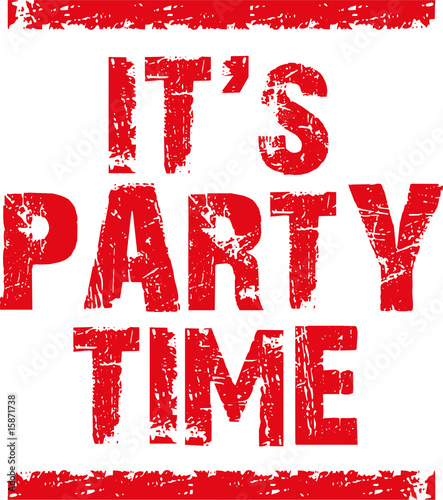 Ready to party? Here's some guidelines:
Link up your favorite posts. It doesn't matter which one, just make sure it's family friendly!

Follow your host (that's me! The Wondering Brain)

Leave a comment if you'd like them to follow you too

Visit at least 5 other bloggers

Show them your blogger love too if you'd like them to follow
Remember, it's not a party unless you mingle, so mingle around and make some friends!
Take our beautiful badge and proudly display it on your side bar to encourage others to party with us!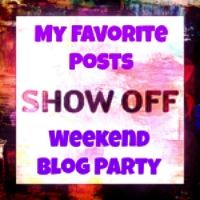 Interested in co-hosting The SHOW OFF Weekend Blog Party next month? $4.00 to reserve your spot for a month and a 50% discount on ad space! We won't disappoint. I promise! Please email me for more information:
thewonderingbrain@gmail.com
Let's swap buttons! Choose the 100 x 100 ad and enter the promo code: swap. It will give you priority link to My Favorite Posts SHOW OFF Weekend Blog Party every week as a swapper!! Click here to submit your button :)