We've been showing off and partying for 7 weeks! Wow!! Thanks so much for all your support, Brainiacs! And... thank you to my lovely co-hostees for sharing the party in the blogosphere!
Google Images



Ready to see who we chose to be featured this week?



Krista from Far From Normal shows us how to make homemade vanilla coffee creamer.
Congratulations on being featured at this week's Blog Party! SHOW OFF your accomplishment by displaying our feature badge on your side bar:
a Rafflecopter giveaway
Ready to party? Here are a few rules:
Link up your favorite posts. It doesn't matter which one, just make sure it's family friendly!
Follow your host (that's me! The Wondering Brain)
Follow all 5 co-hosts: Lisa, Jackie, Anyonita, Marty, and Asha
Leave a comment if you'd like them to follow you too
Visit at least 3 other bloggers
Show them your blogger love too if you'd like them to follow
Remember, it's not a party unless you mingle, so mingle around and make some friends!
Take our beautiful badge and proudly display it on your side bar to encourage others to party with us!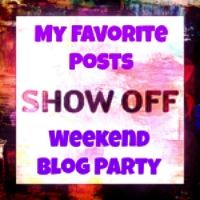 Interested in co-hosting The SHOW OFF Weekend Blog Party next month? We are taking reservations for July! $4.00 to reserve your spot to co-host for a month and a discounted rate for ad space! We won't disappoint. I promise! Please email for more information:
thewonderingbrain@gmail.com
Also, let's swap buttons! Choose the 100 x 100 and enter the promo code: swap. It will give you priority link to My Favorite Posts SHOW OFF Weekend Blog Party every week as a swapper!! Click here to submit your button :).