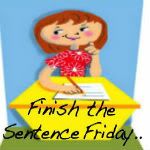 If I were stuck on an island, I would like to have....
So this should be easy since I've lived on an island for the first part of my life! Thank goodness I know how to do this:
And I don't mind doing this either:
But, if I really need to have something, then it would be:
And whenever you're on ANY island you will definitely need:
Just in case a typhoon takes these away:
But really?!? Why would anyone want to leave something as beautiful as this?
If you want to join me at Finish the Sentence Fridays, stop by: